Hello, everyone! I know I have been absent from the blog for a while. I have been hard at work building up my business and finding better ways to serve my customers. The past few months have been fun and challenging for me, and I have learned so much in the process.
Today is June 1, my "Relaunch Day"! I am pleased to announce that I now have coupons and packages available to better suit your needs. In the future, I will be adding more specials, including wedding proofreading packages, college student discounts, and special deals for my Facebook fans. Please stay tuned and spread the word!
Here are the specials I am introducing today: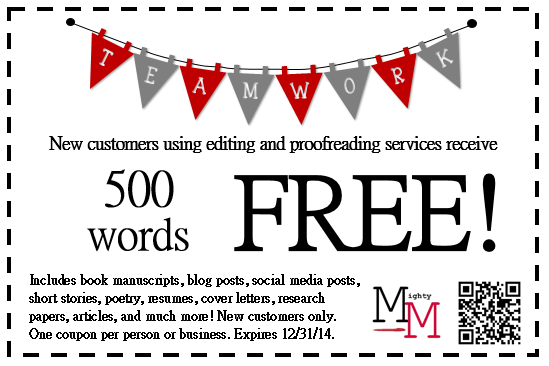 I love meeting new people! I am offering 500 words of free editing work to any new customers. I'm confident once you try me out, you'll be back for more. These 500 words can be applied to anything– letters, blog posts, articles, you name it! You can also apply the 500 words to a longer document, but you will be responsible for paying the difference. Let's work together!
This is for all those recent graduates out there (college or high school). Trying to break your way into the job market? The first step is to have a great resume and cover letter. Let me help you build your resume, polish it up, or proofread it. I can also edit your cover letter and give you helpful suggestions. Your resume says so much about you as a young professional– Make it good! Good for the Class of 2013 or the Class of 2014.
I'm so happy to announce a new Blogger's Special for all my blogging friends! Having a blog editor is a great investment for your blog. First, it will keep all of your posts looking sharp and professional. Second, it will keep you accountable to a posting schedule to help you reach your monthly posting goals! Contact me for more details.
Keep checking my new pages for Special Coupons and Package Deals. I will update those pages frequently with new opportunities!
Thank you for your support. I look forward to meeting and working with new people in the months to come.